Best Room Designs For Your Kids
Designing the rooms for your kids can be really fun. I certainly had a lot of fun doing it. It is so easy to get new and unique designs on the internet and apply them by yourself or by hiring a professional.
I have been wanting to share some of the best designs that I found on the internet. And finally, the article is here, so you can see what kind of designs picked my interest and see for yourself if one or more designs here are good enough for your kids.
Jungle paradise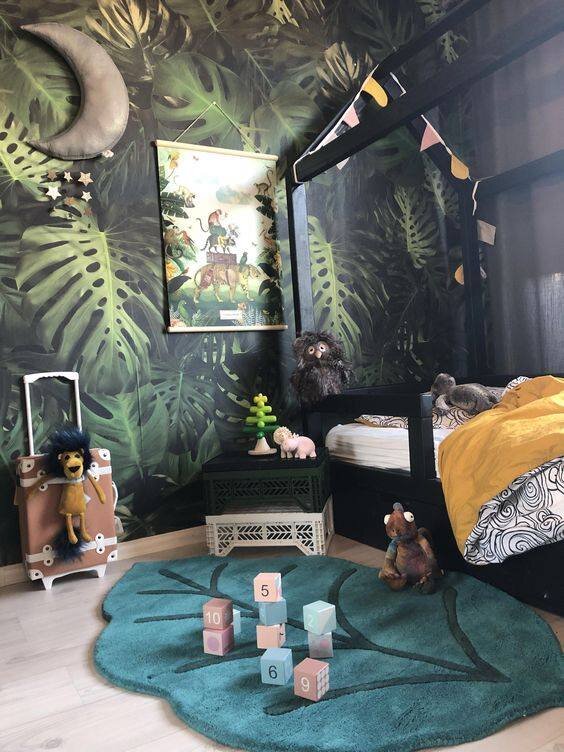 I just love this design. It's green, crowded, and makes the room looks comfier and bigger. The key to this design is the wall paint. The drawing and colors used for this design can go well with a lot of things. For example, animal stuffed dolls, wooden bed frames, animal or forest paintings, etc.
For the floor, you can use a light brown color to make the room brighter and still match the theme. Also, do you notice the half-moon thingy hanging on the wall with little stars underneath? That is a nice little touch for the design.
Map quest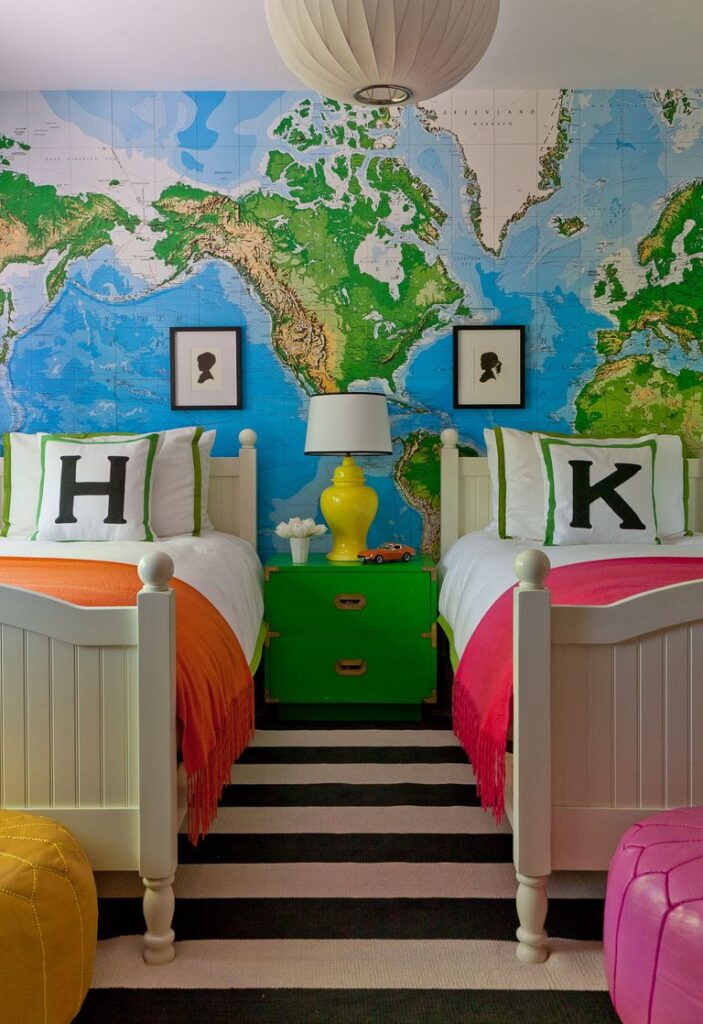 This design was created by Grant Gibson and I absolutely love it. The giant world map on the wall is awesome and will make your kids love to learn more about geography. You can go with a different map design, perhaps one with more information such as temperatures, city names, altitude, etc. anything that can be put on the map.
The little green cupboard is really cute and goes well with the wall. The two picture frames on the wall are put on top of the ocean part of the map, so they're not obstructing anything. Keep that in mind if you want to hang things on the wall.
Subtle safari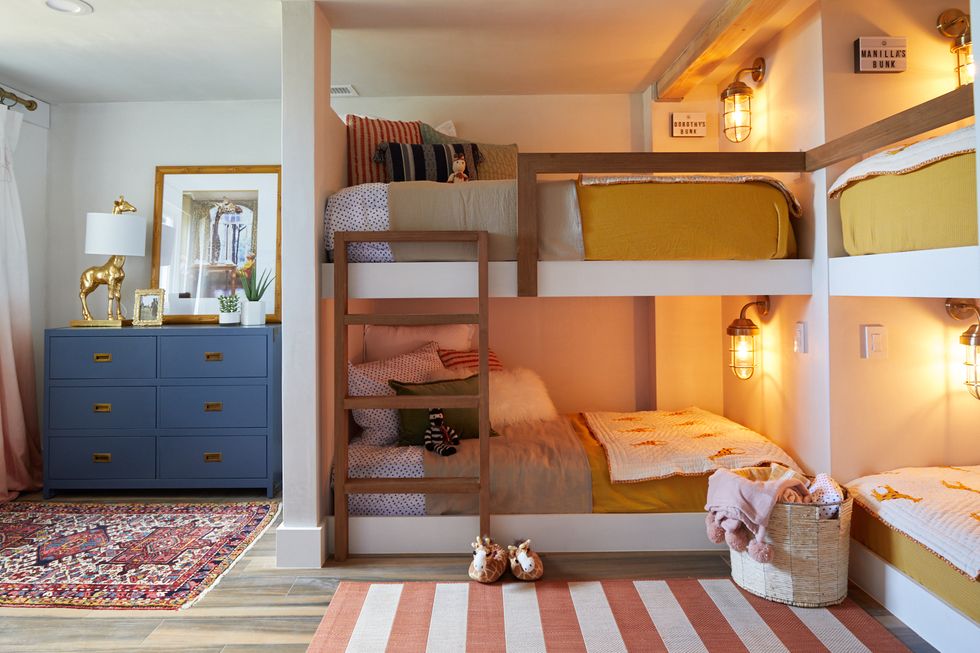 If you have 2 or more kids and want them to share a room, this design could be the solution that you need. The design goes well even if the room is a bit small as the bunk beds are nicely tucked in the corner there. Make sure that each room has the same design, so your kids won't fight each other over the best room.
If you have extra space, you can put a wardrobe as you see in the picture. Otherwise, you need to be creative with the storage inside the room. With this design, you really don't have to worry about space in the house.
Empty space to display their passions
Kids can be really passionate about something and want to show it to the world. The key to helping them do this is by installing wall storage right above their beds. If the ceiling is high enough, you can hang a lot of stuff on the wall.
A place to display their toys
Toys are an important part of your kids' lives. Make sure you have space and storage for them to display their dearest toys. It doesn't have to be complicated and look at the design here. It is simple and gets the job done.
The toys can be placed right above the headboard. You can customize it as you see fit. Maybe a bigger display or a small stair so your kid can put and take their toys easily. You can also add lights to make the display brighter and look better.
The night sky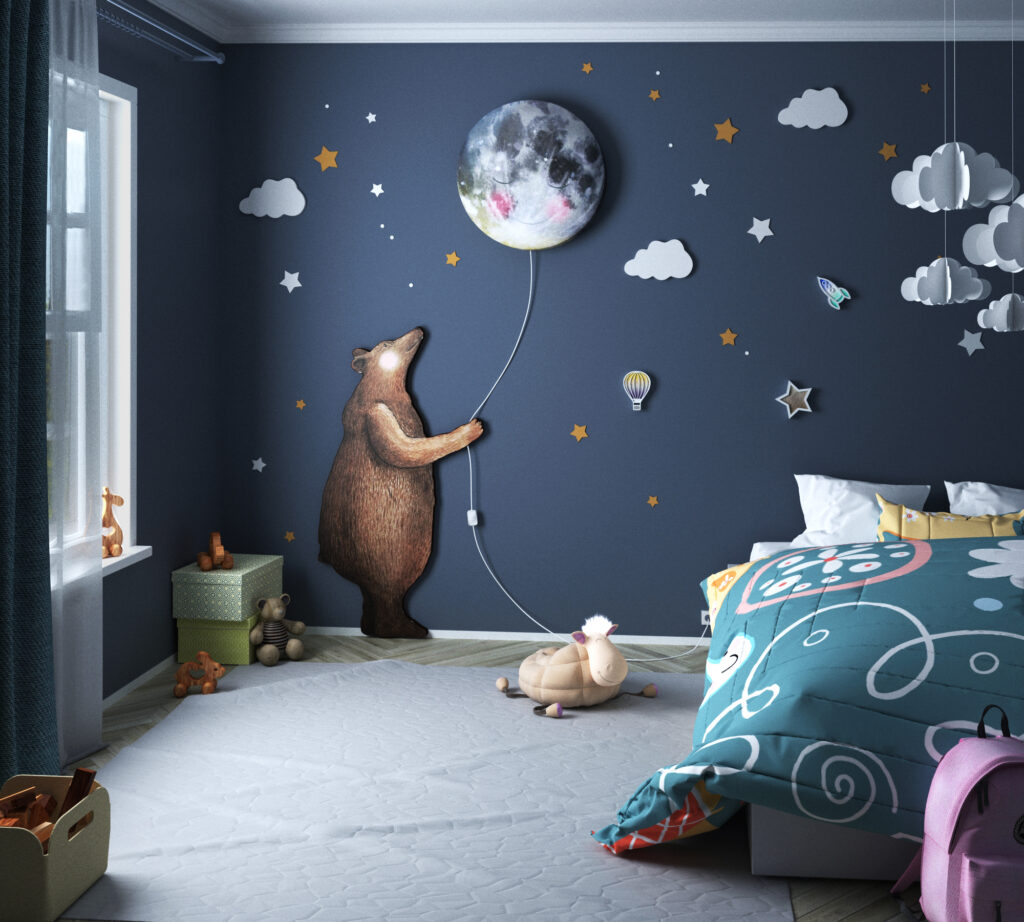 The list wouldn't be complete without a design like this one. Kids love astronomy and astronomy makes for a cool room design. There are so many varieties available. Using a dark color is very common for this kind of design – so you can see the stars much easier. Sometimes the stars would be on the ceiling though, instead of on the walls.
This particular is a bit more creative with the cable there that is connected to the moon, which is a lamp. And the bear is holding it like a balloon. You can go DIY with the decorations. Maybe you can involve your kids and make paper cutouts to be pasted on the walls. The possibilities are endless.
Pick a design and let your creativity flows
These designs are not final product. This list is to help you see what each design could look like. You're free to add your own touch or ask your kids what their preferences are. Each design should be flexible in terms of budget and decors. Don't forget to ask what your family think.